Pennsylvania Tree Farm of the Year Award goes to The Camp at Elk Tannery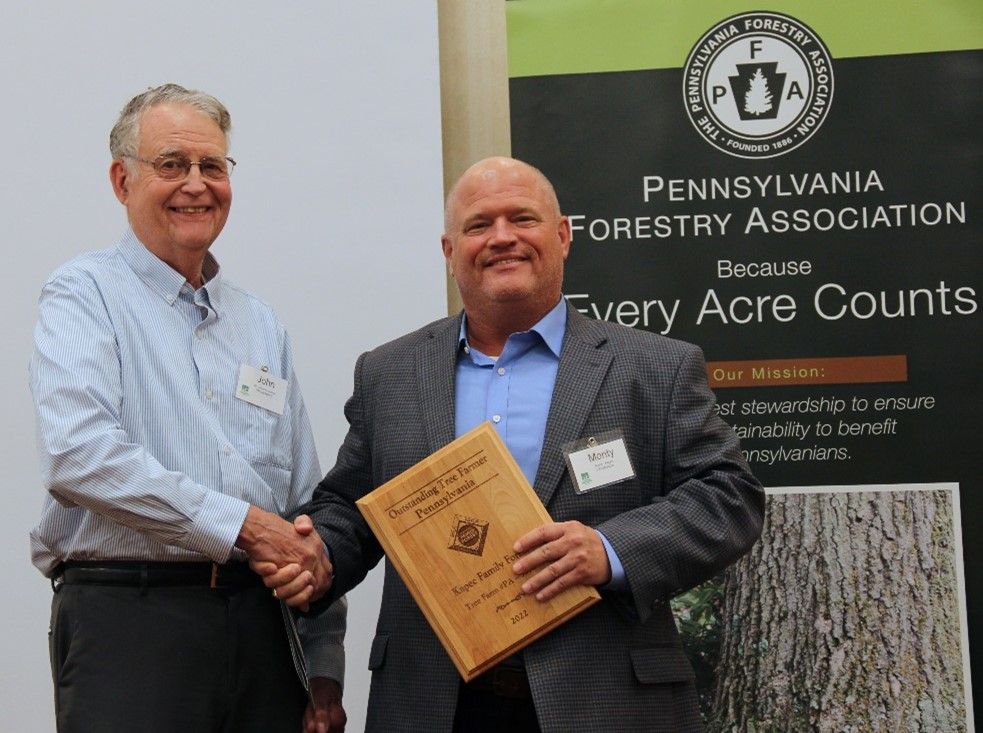 ---
"The thing that comes to mind is how far we've come," says Dr. Monte Kapec, The Camp at Elk Tannery owner. "It's not abandoned anymore. We've turned the corner on that."
The Camp at Elk Tannery was an industrial site in the late 1800s, stimulated by the Pennsylvania lumber boom. Trains rolled through the hardwood hills, initially transporting people and materials to what became a thriving community. A tannery moved in on the heels of an adjacent sawmill around 1889, but after the turn of the century the trees ran out; the tannery closed in 1924 and the community died.
Kapec's grandfather originally bought the land in the 1930s for somewhere to hunt. After he died, Kapec shared ownership with his family. After decades of no one officially tending the land, he saw the place had severely slipped into decline by 2012, so he decided to save it by buying everyone out and planting trees. "If we were going to keep the property, we were going to do it right," Kapec says.
Kapec initially prioritized forest health and he is now watching the woods respond to rehabilitation efforts. With support from the Sierra Club, Rocky Mountain Elk Foundation and Veterans of Foreign Wars, he has turned a rundown tannery and sawmill site into a Certified Tree Farm. "It's not just a certificate on the wall," Kapec says. "It helps us track what we've done and what we're going to do. It's part of a recognition process with repeated assessments, as you continue to improve."
With the woods returning, Kapec launched his next initiative, this one for soldiers. Kapec is a military veteran; he retired from Army medicine in 2019. He finds renewal in the camp's woods and he's sharing that natural connection with other vets. "I saw an opportunity to help others, so I picked up the baton. Spending time in a forest helps people look at life a bit differently."
The Camp at Elk Tannery LLC and Vets in the Valley Foundation, Inc., in partnership, perform a number of conservation efforts geared toward protecting our environment, creating and sustaining habitats for wildlife, and protecting and optimizing our forests. The camp aligns learning opportunities with groups who benefit from such experiences (forestry, conservations, wildlife habitat management, Pennsylvania history, among others). The 501c3, Vets in the Valley Foundation, Inc., executes these programs, and to date, the Camp has provided over 350 veterans and youth with learning opportunities and a keener awareness about wildlife habitat connected to the larger environmental landscape. Learning is enabled through an actual working forest. This experience creates impactful memories which result in a more heightened awareness and a calling for action.
The Pennsylvania Tree Farm Committee was impressed not only with Dr. Kapec's stewardship but with his innovative outreach. He says "What stands out to me is the opportunity to expose people to improving their well-being. This property is shaping lives."
More about The Camp at Elk Tannery can be found here: www.campelktannery.org
Our thanks to outdoor journalist Kris Millgate upon whose interview this is based. See more of her work at www.tightlinemedia.com